San Diego is famed for its naval base, miles of white sand, and its setting as the home of Will Ferrell's Anchorman movies.
However, up until recently, the city certainly wasn't known for its IT startups scene. While Silicon Valley, NYC and Austin have long been the go-to cities for developers looking to build the next big thing, San Diego preferred to focus on the life sciences sector. The only major software development firm that did use America's Finest City as a base – Peregrine Systems – went through a traumatic Chapter 11 bankruptcy in the early 2000's which saw thousands of job losses. Hewlett Packard eventually picked up the business for a song and shifted it out of the city, seemingly ending San Diego as an established tech hub for good.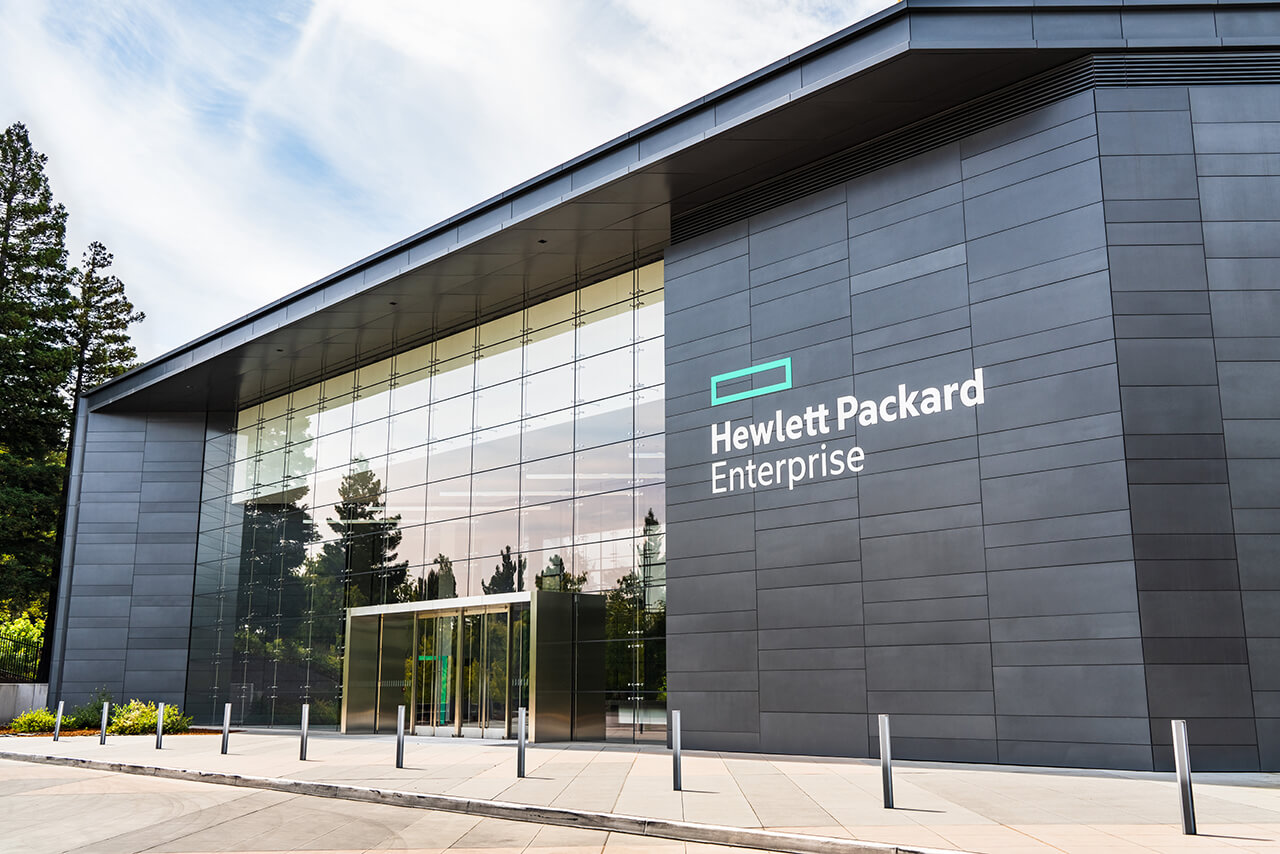 Hewlett Packard Enterprise corporate headquarters located in Silicon Valley, Palo Alto, CA, USA
The rise of IT startups in San Diego
Fast forward to 2020 and the picture couldn't be more different. Silicon Beach is now the undisputed rising star in the US technology startups scene.
The San Diego IT sector overall has seen three-year revenue growth of 188%. This growth rate has only been eclipsed by San Francisco, New York and Austin, with San Diego now cementing its place as America's fourth tech capital.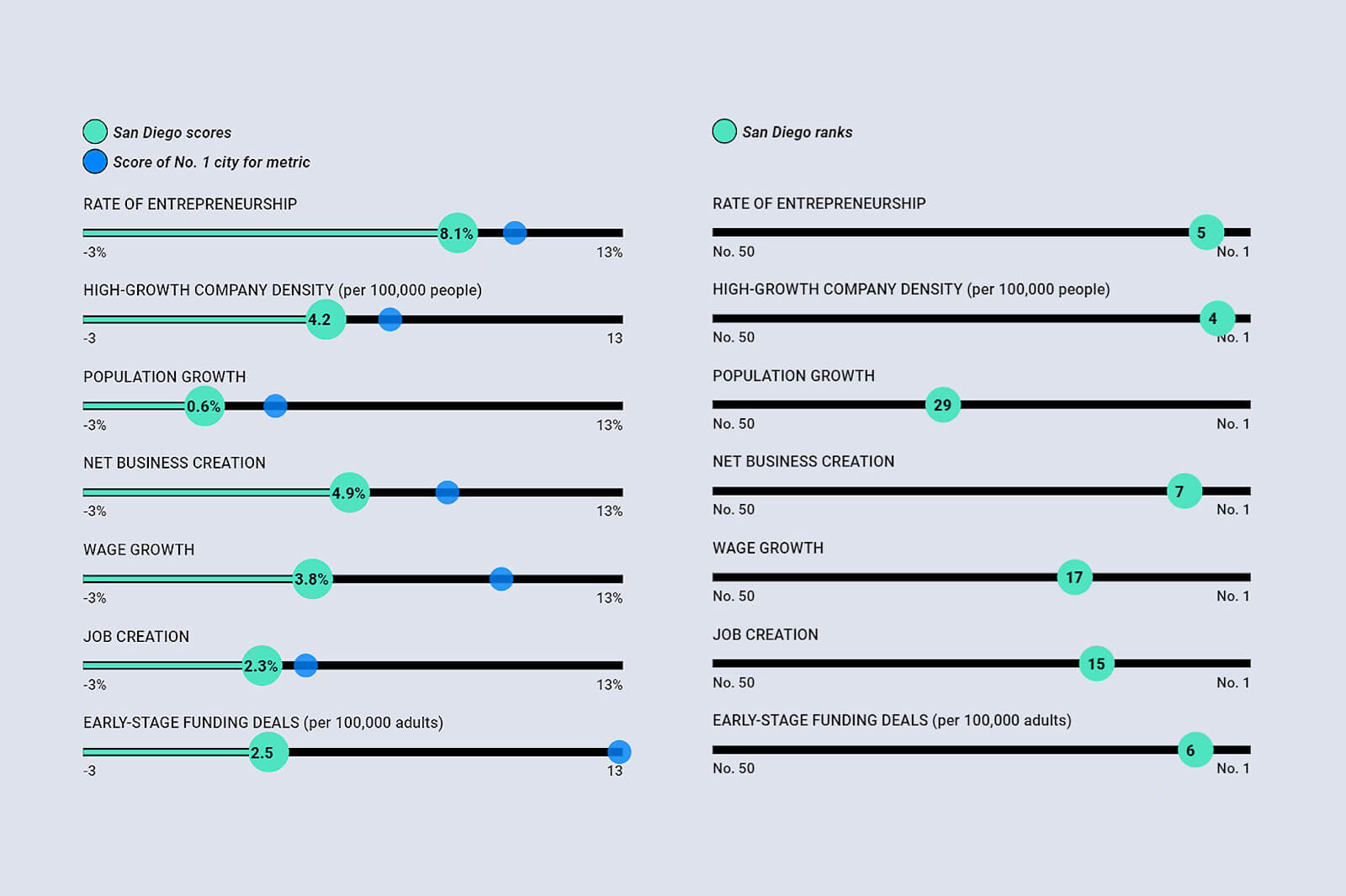 Source: inc.com
Fast-growing technology jobs in San Diego
CBRE named San Diego the 6th fastest growing US city for software and tech professionals. And IT firms aren't just using the city as a place to set up a head office either – this is a town where great coding gets done. San Diego is now the sixth-fastest growing technology job market, as IT companies see huge potential in the city's educated, tech-savvy labor pool.
Search engine giant Google opened a 60,000 square feet office in 2016, with other big tech companies such as Apple, Amazon and Walmart Labs following suit by 2019.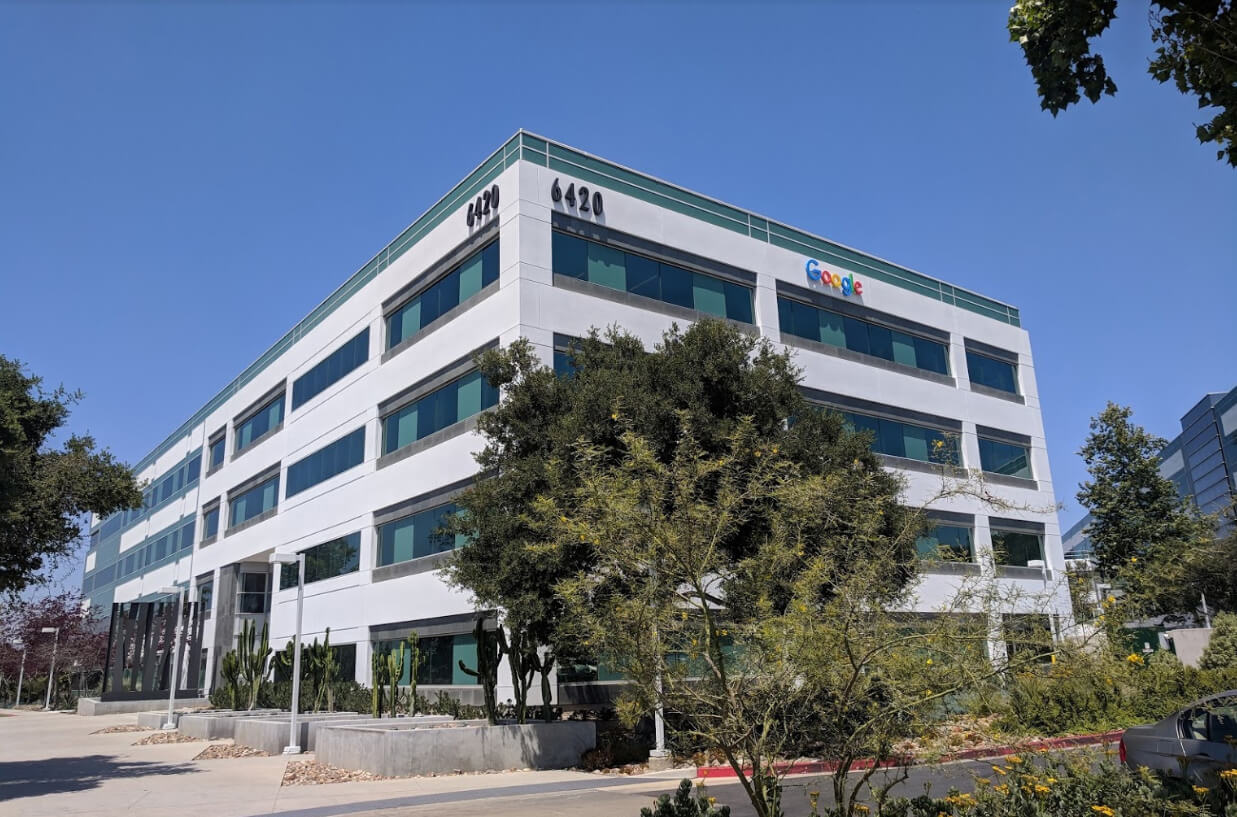 Google office at 6420 Sequence Dr., San Diego
AI startups
At the heart of this growth has been firms specialising in Artificial Intelligence software solutions. AI company tracker Tracxn now lists over a hundred AI firms headquartered in the city. These IT companies are using machine learning for a wide range of applications, with EffectiveSoft software development company in San Diego producing custom AI solutions for industries, including fintech, healthcare and logistics.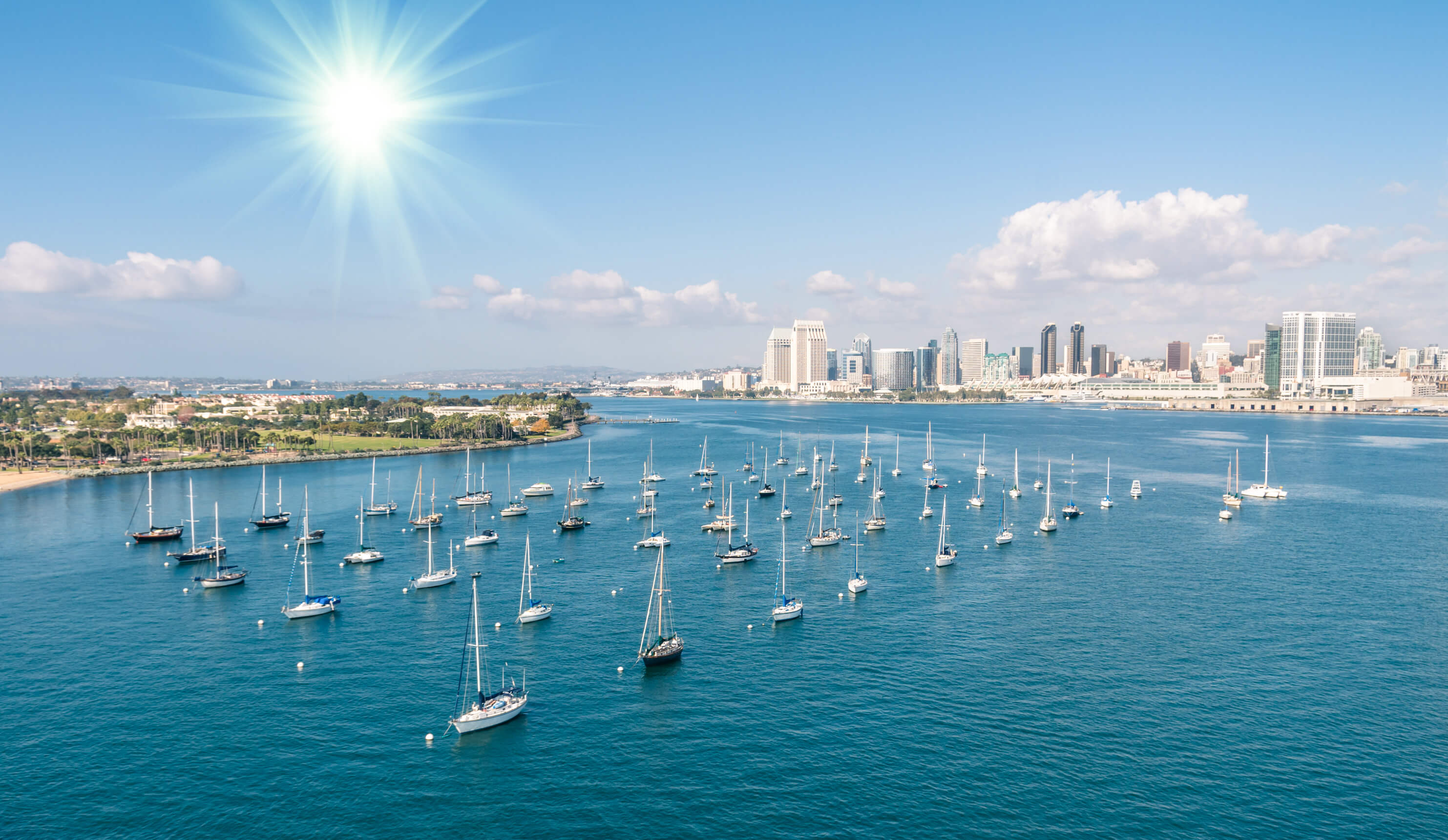 According to tracxn.com San Diego hosts 108 AI startups
Two of the AI tech startups on the Tracxn list have even achieved 'unicorn' status. By the middle of 2019, both Seismic (Marketing Software) and TuSimple (Self-driving trucks) had received more than $1bn in funding from venture capital (VC) firms. These VC companies are so excited about the future of San Diego as the next tech startup hub that two new IT firms – Blueprint Equity and Torrent Ventures – have even set up shop in the city.
The San Diego tech scene certainly looks like it has a promising future. But what are the drivers of this sudden upturn in fortunes – and is this growth sustainable?
What is behind this incredible turnaround in San Diego IT startup scene?
San Diego's recent meteoric rise up the IT hub charts can be attributed to several coinciding factors.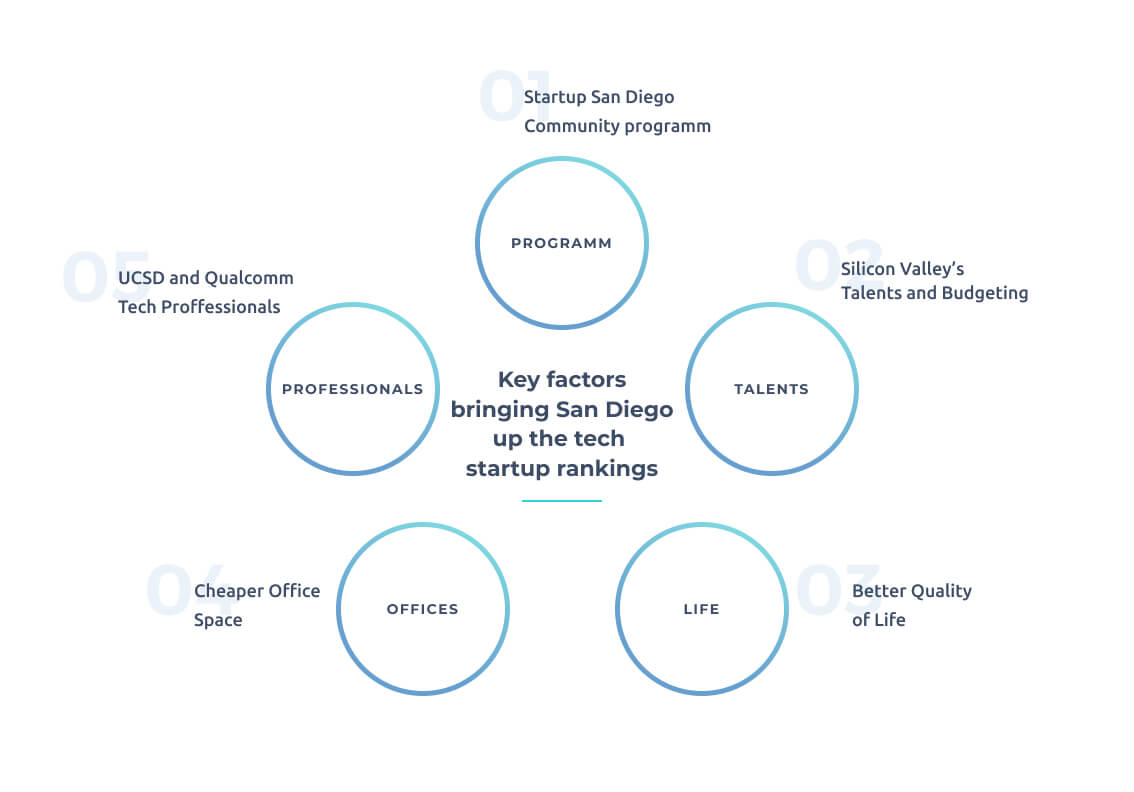 Startup San Diego community program
The first is the founding of the Startup San Diego community program in 2012. This was a true grass-roots initiative, as small-time entrepreneurs from across the city got together to form a tech community. The first meeting only had around a couple of attendees but is now regularly hitting over 4000. The sharing of ideas and opportunities to form successful collaborations has been directly responsible for several of the leading tech startups on today's Tracxn list.

The local start-up scene was further boosted by the emergence of the San Diego Tech Hub in 2018. This not-for-profit initiative seeks to connect IT professionals to digital marketers, product owners and sales teams, with the aim of fostering diverse, creative solutions to improve the city of San Diego.

Silicon Valley's talents and budgeting
Secondly, there has been a concerted effort to attract talent and capital from Silicon Valley. This culminated in Mike Krenn of the non-profit San Diego Venture Group buying up billboards over Silicon Valley's most gridlocked freeways extolling the virtues of moving south. The one that received the most airtime had the message: "Today's surf report: San Diego is better."
Better quality of Life
And it has to be said that Silicon Beach does indeed offer a better quality of life than the Bay Area. Less traffic jams, less fog and better beaches are the obvious benefits. But rents are also a key factor to attracting young graduates to a city, and San Diego's are almost half that of San Francisco's.
Cheaper office space
Cheaper office space is also a factor which naturally attracts IT startups, and America's Finest City has this in abundance. The average price in the city is around $300 per square foot, which compares favourably with the likes of San Jose ($400 per square foot). Lower overheads are crucial for tech startup firms, particularly those in the pre-funding stage, and Silicon Valley is pricing itself out of this market – to San Diego's benefit.
UCSD and Qualcomm IT professionals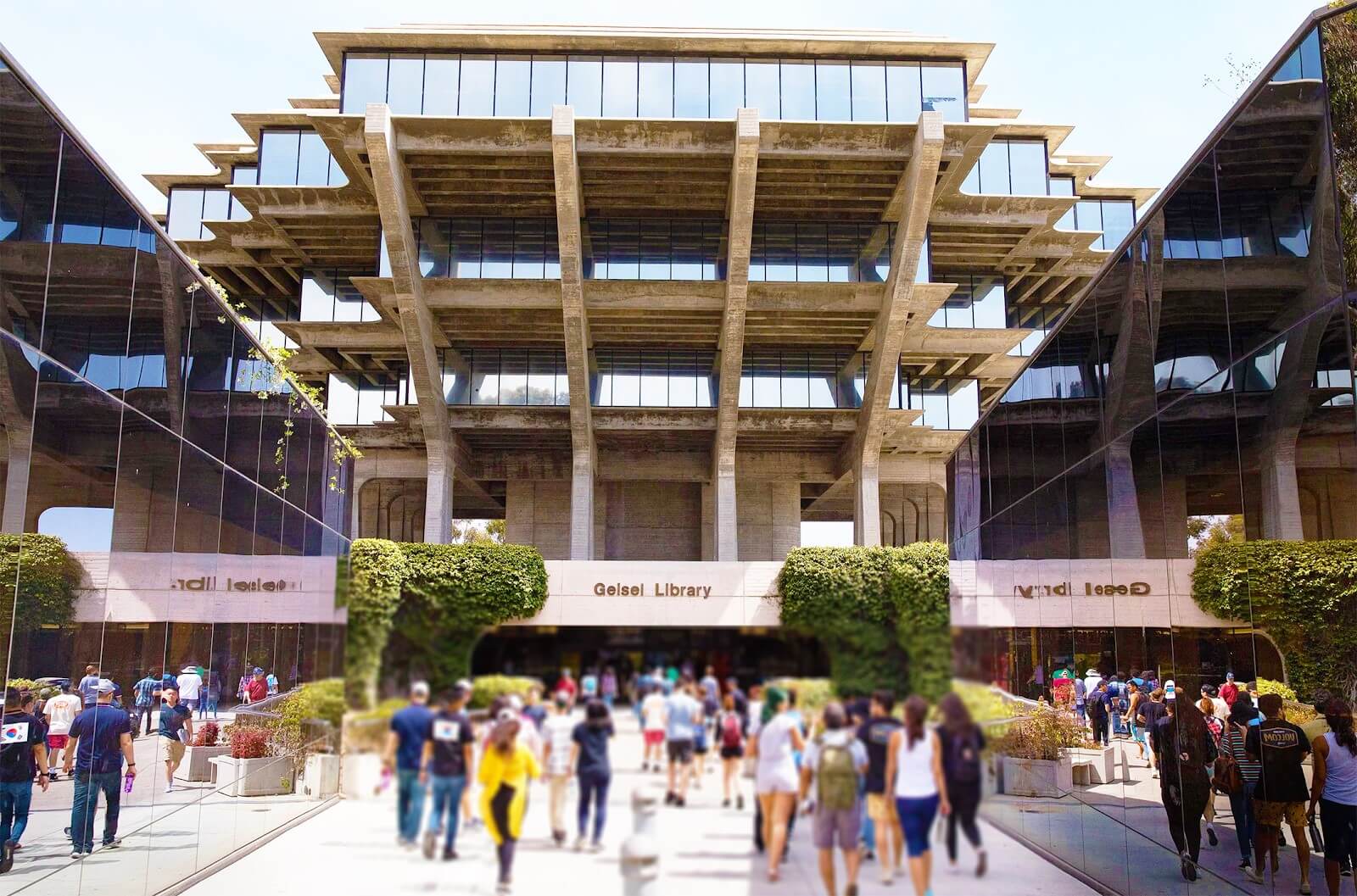 Mirrored pathway to Geisel Library of UCSD
But none of these factors could have had the effect they had without the highly skilled human capital located in the city. The University of California San Diego (UCSD) produces plenty of local home-grown talent, with a particular strength in software engineering. Chip giant Qualcomm also has a significant operation in the city, and regularly sheds staff, who provide some much-needed experience to the mix.
Right now, City in Motion is benefiting from a perfect storm of factors which have pushed the city up the tech startup rankings.
Key challenges San Diego can face in its rising Tech Unicorns Story
Investing in the San Diego technology startup scene a few years back now looks like it was a slam dunk – but does the city still have room to grow? And can it challenge Austin for the title of America's third tech city?
Well, there are two key challenges which could derail the San Diego success story.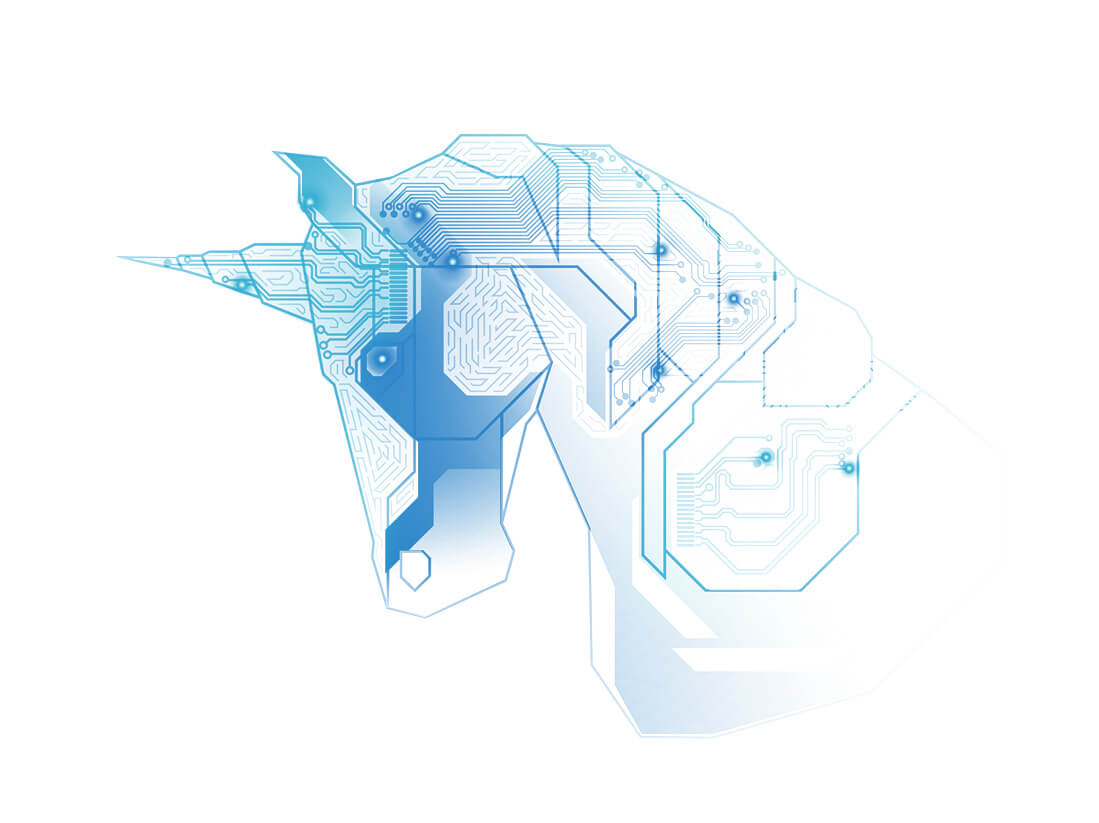 Challenge #1:
Lack of large office spaces available for big unicorn startups
The most obvious one is the lack of ready-made large office spaces which San Diego's rising IT unicorns could grow into. The city's decade-long reliance on the life sciences sector means plenty of lab space in the outer suburbs, but precious few of the downtown office blocks which millennial developers prefer to code in.
The 177,479 square foot 2100 Kettner in Little Italy will help, with construction planned to be completed by the end of 2020, but there aren't too many other large-scale projects in the immediate pipeline.
Challenge #2: AI hype
However, a bigger challenge concerns the niche as an AI software center.
The potential problem is that much of the hype around AI is still just that – hype. Progress has been slower in this field than many investors have anticipated, particularly in the field of autonomous vehicles (which TuSimple specializes in). Moore's Law may state that a microchip doubles in power every 18 months, but driverless cars still are no closer to escaping the beta testing phase. Waymo recently shuttered its Austin operation with the loss of 100 jobs, and Silicon Beach is even more reliant on this sector than its Texan rival.
AI-focused IT startup companies' valuations are priced to perfection and could be ripe for a crash. Just look at Uber's problems since floating in the spring. The ride-haling app maker's growth prospects are predicated on replacing drivers with artificial intelligence, and this isn't going well – perfectly illustrated by the firm's collapsing stock price. If the fast-money VC's lose interest in the AI sector in the same way that they did to the original dot coms, then San Diego will get hurt hard.
The future of San Diego as an IT startups hub is going to be highly dependent on how far and how fast AI fulfils its promise. It's going to be an exciting ride either way.