Add to this the growing complexity of supply networks, and you have a bundle of factors that place enormous pressure on businesses. To thrive in this environment, maintain market position, and meet customer needs, businesses must take advantage of automated processes and technologies that keep them lean, nimble, and fast.
That is why building a flexible, predictive supply chain that can withstand disturbances and is perfectly aligned with the customer needs is at the top of the corporate agenda.
In what follows, we'll explain the concept of supply chain automation, discuss some of the benefits that supply chain automation brings, describe which supply chain processes can be automated, and show how the developers at EffectiveSoft can help you automate your supply chain workflows.
What is a supply chain?
A supply chain can be associated with movement and storage of flow of goods which is accompanied by informational and financial flows. A typical goods flow begins with suppliers and passes through multiple manufacturing and warehousing facilities before distribution to the final customer.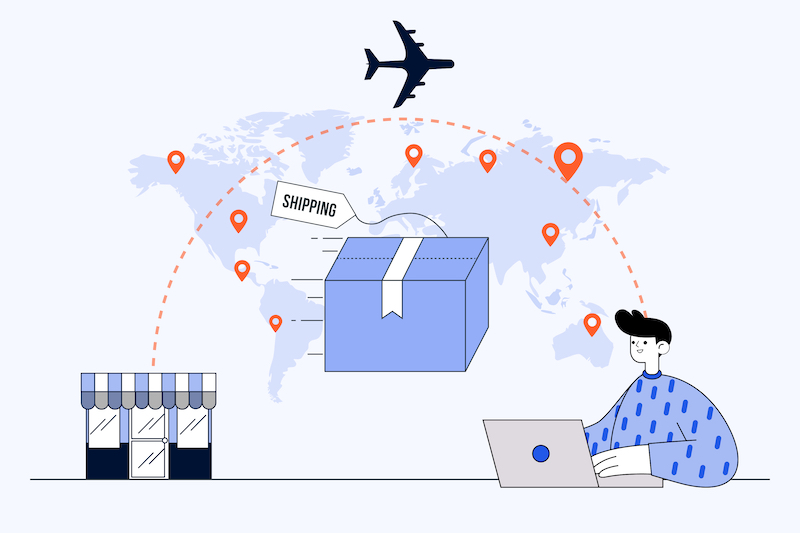 The use of supply chain automation solutions can optimize your business
Behind the scenes, there are all the employees, resources, data, processes, and technologies that together enable the appearance of finished goods in customer's hands or at their front door. These complicated chains of people and processes can be managed in one of two ways:
A traditional method focused on production and provision and reliant on siloed systems with little to no data sharing.
An automated (digital) method powered by up-to-date technologies that connect all the network components, speed up processes, and enable all stakeholders to access reliable, real-time data.
Why do organizations need to automate supply chains?
Today, supply chain management is not limited to manufacturing and delivery. It is focused on boosting customer experience. It means, customer satisfaction should be the main driving force of all supply chain workflows. However, there are hindrances that create gaps and vulnerabilities across supply chains, as well as stop businesses from growing. Many of these result from adherence to manual operations and postponed automation plans.
We suggest that you answer the questions below and, based on the responses, decide if it is time for you to automate.
Is your supply chain rigid?
Unpredictability due to delayed deliveries or capacity issues seems to be an everyday occurrence for supply chains. Ask yourself if your company is able to quickly respond to emergencies and adapt sourcing, manufacturing, and distribution operations to rapidly changing conditions. If your processes lack flexibility and agility, you might want to rethink your supply chain management.
Are there any conflicts between the supply chain components?
Are your employees wandering through a maze of Excel sheets, local databases and disconnected software products to get insights into the current state of operations? Is your company experiencing an imbalance between supply and demand? Do you find yourself and your employees searching through long email threads to find a single figure or checking multiple sources for updates every few hours? These are signs that your supply chain might need better coordination and improved visibility.
Therefore, rather than keep on searching through the very long email threads to find a single figure or check for updates every few hours, it is more efficient to adopt an efficient system that can be implemented within a reasonable budget and time.
Are you meeting customer demand?
With supply chains based on manual workflows, the risk of damaged, lost or delayed shipments is high due to poor shipment monitoring and lack of real-time data. Taking into account the growing expectations of today's customer, such errors are costly: they can lead to customer dissatisfaction and damage to the company's reputation. According to a recent article in Forbes, a supply chain that relies on archaic manual processes is not competitive anymore. The only way to keep customers happy is to examine your core workflows and identify your supply chain blind spots.
In sum: the implementation of digital technologies like advanced analytics and forecasting is vital to remedying your supply chain weaknesses and ensuring customer satisfaction.
What is supply chain automation?
While thinking about automation, many people visualize machines replacing humans.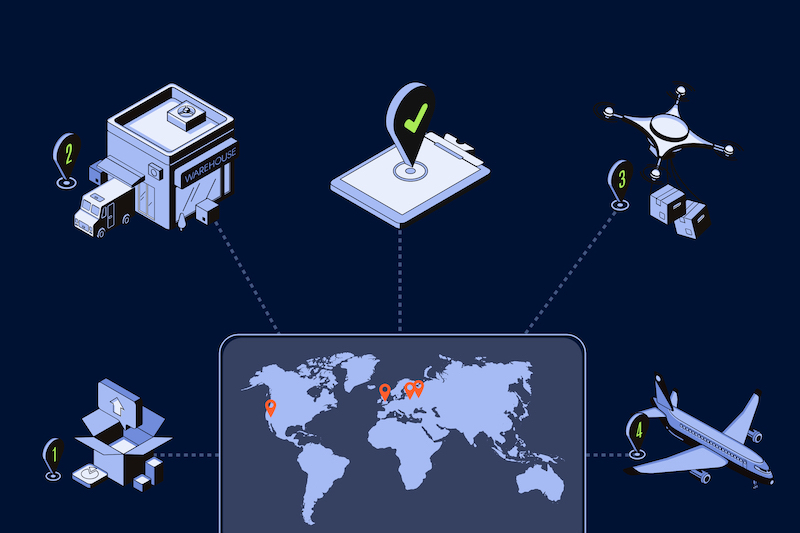 Supply chain process automation
However, supply chain automation refers broadly to the implementation of up-to-date technologies to automate operations which used to be performed manually and thus reduce potential for human errors in specific supply chain workflows. But it is worth mentioning that there is no fast and easy way to automate. Implementing a technology usually follows several basic steps, such as employing a customer-centric supply chain strategy, auditing the existing workflows and figuring out the required improvements, selecting unified data standards for formerly separated systems and solutions, and choosing tools for the processes that you need to automate and so on. Once you have completed the basic steps, you can proceed with the implementation of advanced technologies that meet the needs of your business.
Benefits of supply chain automation
The advantages your company stands to gain by automating your supply chain processes are numerous. Having limited space here, we will focus on the most significant ones.
Automating manual tasks
Processing documents — purchase and shipment orders, bills of lading, customs declarations, and others — is one of the most time-consuming tasks in manual supply chains. By implementing standardized, replicable processes that connect your supply chain, you save time and money while making your supply chain much more efficient.
Minimizing human errors
Human errors (accidentally duplicating orders, incorrectly entering data, picking and packing the wrong item in an order, etc.) constitute one of the most significant risk factors in supply chain management. When your supply chain management system is based on manual processes, mistakes creep in inevitably. Automated systems help eliminate such errors, which, even while unintentional, might cost your business money and lead to loss of customers.
Increasing visibility and transparency
Lost orders often mean lost customers. With more and more nodes in today's supply chain, enabling end-to-end visibility is a key concern for executives. Data empowers businesses to detect and fix weaknesses in the supply chain before they become significant problems. According to a McKinsey and Company study, 80% of respondents need to improve and invest in digital planning to increase supply chain visibility.
Suitable solutions integrated into existing software or created as part of supply chain orchestration platforms allow greater operational control and reaction speed. It is especially vital for healthcare supply chain automation or automation in logistics. We will be pleased to equip your business with a flexible and reliable solution.
Improved customer experience
The universal truth about today's customers is that they expect to receive their orders as soon as possible with outstanding customer service in the event that problems arise . Supply chain automation serves customers in multiple ways, from automatically triggering order fulfillment to picking and packing the orders.
With technologies streamlining your business, your customers will reap the benefits and you will be able to maintain high customer satisfaction and loyalty rates.
What supply chain processes can be automated?
Back-office
Supply chain management is usually considered in relation to the movement of physical goods. However, a significant portion of the process occurs behind the scenes. Back-office operations set the stage for all supply chain processes. They include operations responsible for the vast amounts of data that control the movement of raw materials and finished goods, procurement, and the production flow. Implementing automation in this process can significantly increase the speed and efficiency of tasks.
Using artificial intelligence (AI) and optical character recognition (OCR), businesses can achieve nearly 100% back office automation. Automation can cover tasks Including (but not limited to) data capturing, recognizing document content, etc. Robotic process automation (RPA) can also positively impact supply chain productivity and efficiency. According to a global survey, 44% of the participants expect RPA to have a significant or moderate impact on supply chains by 2023.
Warehouse management
Today, warehouse automation is a strong tendency in the supply chain industry. Certain software can automatically aggregate and process orders, and then send tracking information to customers. In some cases, these programs can automatically direct every order to the most suitable warehouse based on the available space and picking efficiency.
The process of automation in warehousing has also grown increasingly sophisticated. Possibilities include automatic identification and data capture (AIDC) technology, including mobile barcoding and radio frequency identification, as well as box selection algorithms. The latter recommends the best size box to reduce waste and minimize the risk of product damage.
Transportation
Transportation, which is one of the most important processes in the supply chain, can be automated in different ways. But all automation systems are aimed at enabling fast, precise and qualitative delivery in a more economical and effective way. These are just a few examples of such solutions. Route optimization helps determine the best carriers and fastest, most efficient routes. Multi-dimensional monitoring tool provides real-time information on your vehicles and notifies you of potential delays. These and other technologies in transportation software development allow you to optimize your transportation processes and reduce transportation costs.
Supply chain automation trends
The game-changing technologies in supply chain management include but are not limited to artificial intelligence, advanced analytic tools, digital twins, and many more.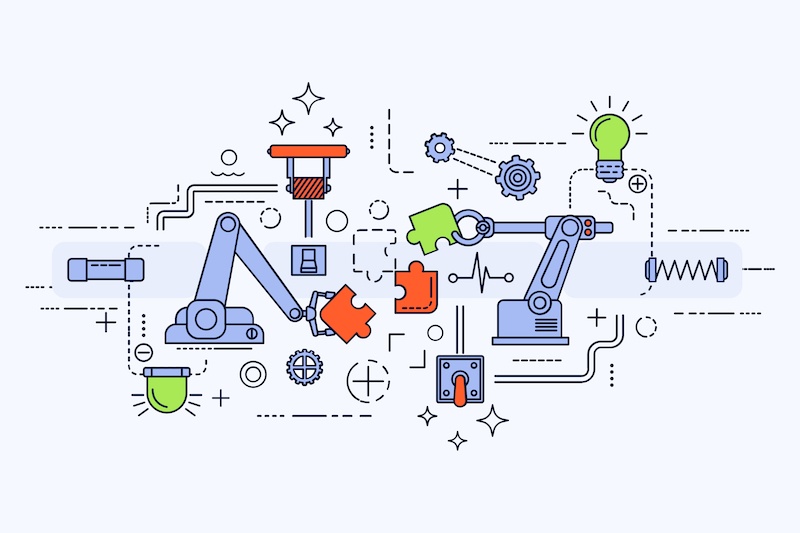 Robotics and automation in supply chain management
Artificial Intelligence (AI)
AI is a technology that is making a huge difference in supply chain management. AI typically doesn't solve problems that have already occurred, but it is extremely helpful in predicting the potential ones. AI can automate supply and demand planning and optimize inventory management, which allows businesses to take preventive measures: to bolster supply BEFORE shortage and to reduce inventory BEFORE reduction of demand. Along with balancing supply and demand, AI helps predict risks related to suppliers. Companies often suffer from raw materials insecurity: if they have insufficient inventory, suppliers serve the lowest margin customers last or not at all. AI helps managers understand which suppliers' mail fail to deliver and why, so that managers can find a workaround.
In sum, AI is no longer an option for your supply chain transformation — it is a must-have. AI solutions provide supply chains with an unsurpassed level of agility. This applies especially to supply chain automation in logistics, transportation, healthcare, and more.
Advanced Analytics
The major role of advanced analytics in supply chain management is to support decision-making. Supply chains generate vast amounts of data which make sense only when used correctly. Advanced analytic tools provide companies with reliable data, accurately summarized and supported by graphs, charts, etc. The reliability of such data is ensured by their prior digitalization, cleansing and standardization across the entire supply chain. This means that the problems of information inconsistency and fragmentation are eliminated. With the right supportive analytic tools in hand, even analysts with no programming background can get valuable insights and clearly visualize outcomes.
Our developers can help create a complex SCM system from scratch, or integrate predictive and advanced analytics into your existing system. We also can help your company cleanse and digitize your data to build a single source of truth within your supply chain.
Digital twins
Digital twinning sounds fanciful, but it is in fact a highly useful technology that allows users to outsmart supply chain disruptions. This virtualization technology creates a digital replica of your supply chain, enabling you to test various scenarios and alternative models for their impact on supply chain operations. For example, you can create a precise 3D model of your warehouse and safely experiment with different layouts or new equipment and see their effect. Logistics departments can use digital twinning to optimize routes and thus improve delivery time. For these reasons, digital twinning is one of the most exciting emerging technology trends.
Conclusion
The supply chain challenges faced by today's companies are unlikely to go away. However, this doesn't mean that the supply chains will inevitably break or fall into disarray. Automated supply management systems are an effective way out of a situation. Even though switching to automated SCM systems requires, according to a recent New York Times article, "investment, technology and a refashioning of the incentives at play across global businesses," it is well worth the investment.
With the right tools and technologies in place, your company can enjoy better supply chain visibility, improved decision-making capabilities, and a resilient supply chain, thus enabling you to successfully mitigate problems, avoid disruptions, and keep your business thriving. At EffectiveSoft, we have such experience. Contact us to learn more.