It takes time and effort to set up effective communication so that all the employees can achieve high levels of productivity. This is when an enterprise software and its modules come to the stage. Let's have a look at them.
ERP
Enterprise resource planning (ERP) systems combine all types of enterprise applications in one package. These applications, most commonly called modules, can all be purchased as a part of an ERP system or separately. These systems are usually built around the customer relationships module and, depending on the business vertical, may include supply chain, inventory and warehouse, HR/labor management, finance, and other modules.
ERP software solutions connect business processes and provide data exchange between them. Collecting the enterprise's common data flow from multiple sources, such systems eliminate data duplication and ensure information integrity within a single source.
CRM
Customer relationship management (CRM) systems focus more on marketing: lead generation, nurturing, sales pipeline development and execution, and customer service. Any information about your contacts and accounts has to be collected in the system including personal data, purchasing history, returns and complaints, and customer support.
Other important components are inquiry handling, contact handling, order control, pricing control, and invoicing. Authorized employees can use, share and change all this information in real time. The main goal of CRM software is to help marketing and sales departments develop and maintain effective communication with prospects and clients. CRMs allow enterprises to analyze marketing and sales KPIs, streamline processes, and increase profitability.
SCM
Supply chain management (SCM) deals with planning and controlling the flow of products: from procurement of raw materials, tools and services to distribution of finished products to end-users. An SCM system is a cost-effective way to manage such vital processes as demand forecasting, production, inventory management, supplier search, logistics, product transportation, and lots of other tasks.
Other enterprise software modules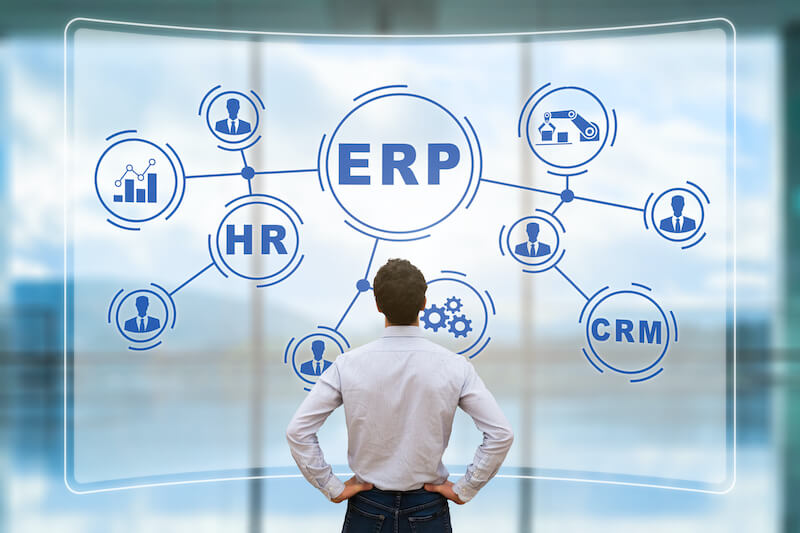 Production. For manufacturers, this module is indispensable as it helps to focus on production planning and control, generate automatic reports, analyze production efficiency, and keep track of the optimum use of all the available resources.
Warehouse. This module helps to carry out warehouse functions: kitting, inventory tracking, shipping / receiving of goods, pick-and-pack, yard and dock monitoring, and reporting.
Inventory. Such systems allow enterprises to control and maintain stocked products, whether they are raw materials or finished goods ready for shipment. These modules also assist in production planning and in carrying out materials sufficiency assessments.
Finance and accounting. The information about new clients goes directly to the accounting department. With the help of enterprise software development, accountants run a creditworthiness check and verify other relevant information. As soon as the client is approved, the sales rep automatically gets confirmation which may also include prices and discounts. Also, such modules deal with billing, payment control, receivables, payment of bills from third-party suppliers, financial analysis, and financial reporting.
HR. This module facilitates staff recruitment, onboarding, further training, performance review, and promotion. It also collects demographic information and personal data, education of employees, their skills and capabilities, compensation records, recruitment plan, and more.
Conclusion
Enterprise software development and implementation is a great opportunity to boost employee performance, improve the transparency of the business and operational efficiency of each department. But enough from us. Now it's your turn. Implement these types of enterprise systems and find out for yourself.