Over the last few years, FinTech has created unprecedented job demand, and a lot of financial software development companies strive to attract the best talent. Let's see what IT professions are in great demand on the US FinTech labor market (based on our research on the most popular FinTech vacancies).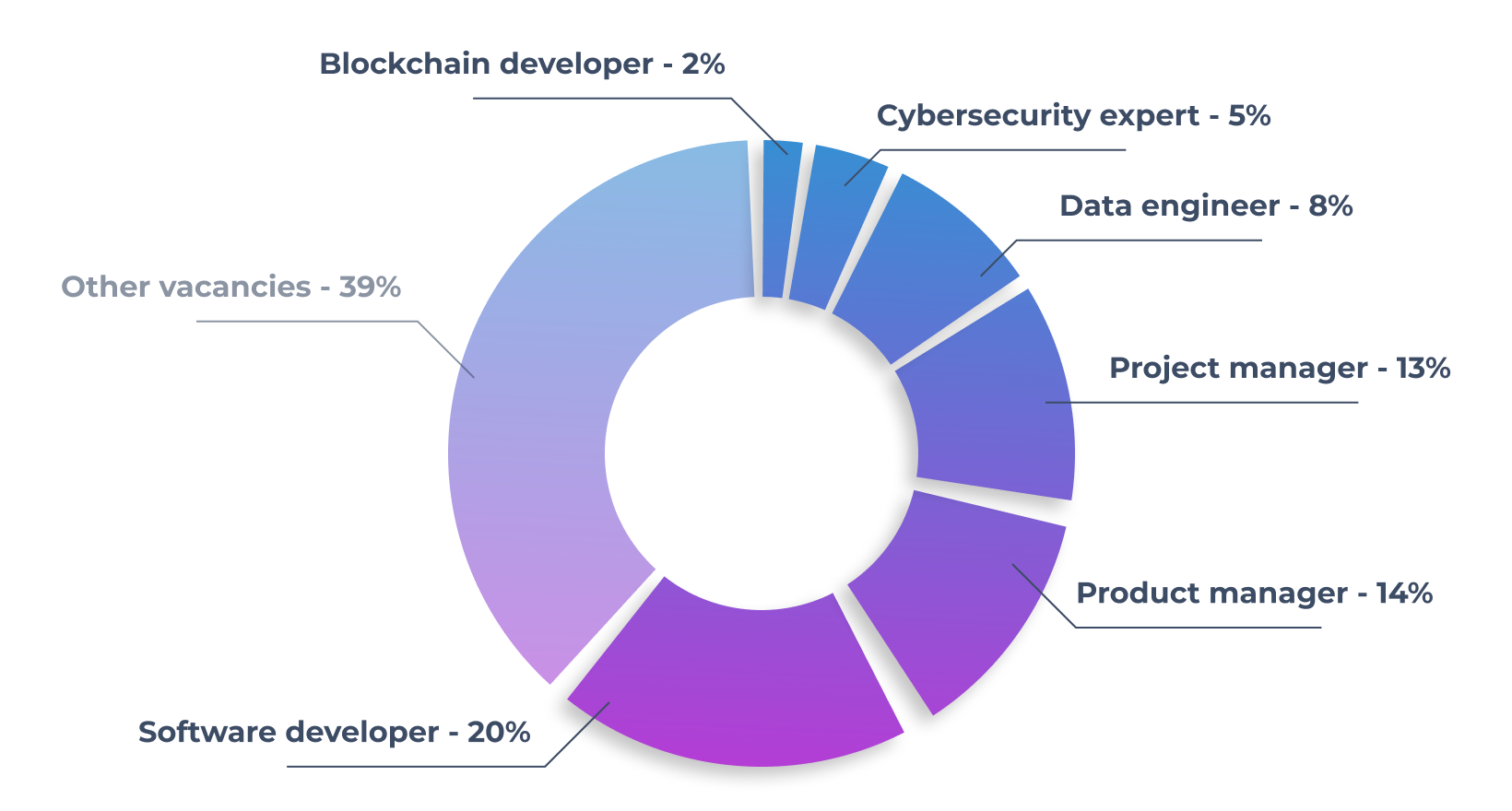 FinTech job market
Blockchain developer
Since blockchain appeared in 2008, the need for developers has grown exponentially. Developers are primarily responsible for the research, design, implementation, and testing of blockchain software. They need to know Solidity, blockchain, Node.js, Ethereum, and cryptocurrency and to be able to work with Hyperledger Fabric, and Ripple. The knowledge of machine learning, cryptography, and P2P networks is a huge advantage. With all the aforementioned skills, you will be the best candidate in the FinTech industry.
Cybersecurity expert
Financial services have always been the major target of cybercriminals. This is why any FinTech company needs a strong cybersecurity specialist to protect their services and customer data from theft. A cybersecurity specialist should have analytical skills and experience in GRC implementation (governance, risk management and compliance), encryption techniques, incident investigations, security operations management, data administration and management, and more.
Data engineer
FinTech processes a lot of data. Financial organizations produce a large amount of various information and consume a lot of third-party data. It is not enough to accumulate all this data – it should be processed and analyzed accurately. This is when data specialists can help. Such specialists mine and analyze all the data, provide advice on how to improve products and services, forecast and minimize potential risks. An ideal candidate for the position should have a wide knowledge of Mathematics/Statistics and Computer Science, as well as programming skills.
Project manager
A project manager carries out planning, initiation, and execution of a project, mitigates risks, and manages resources. To get such a job, it is necessary to have at least 3 years of experience and be proficient in Agile (Scrum and Kanban), product management, flexible processing, and product launch (especially in the field of FinTech).
Product Manager
A product manager plays one of the most important roles in product development. This person is responsible for project scoping and technology research and determines what should be done to address the customers' needs. To get such a position in FinTech it is necessary to have at least 3 years of experience in this position or be a former finance/trading specialist with a background in technology. Having a technical background as well as a deep knowledge of the domain will be a huge advantage.
Software developer
The global FinTech apps market has grown impressively over the last few years. All the financial institutions are fully equipped with various software solutions, and personal apps downloads hit all the record levels. That is why FinTech apps developers are still in high demand, and the trend will continue. Among the most popular programming languages for FinTech are Java, Javascript, .NET, Android & iOS, PHP, and C++. Some FinTech companies look for developers with the knowledge of R, Python, Ruby, and Scala.
Other vacancies
Above we have described the most sought-after careers in the FinTech industry and FinTech career opportunities but there are other positions that applicants can look for. Among technical vacancies, we can mention quality assurance and DevOps engineers. Creative thinkers may apply for the position of UX/UI designer. Non-technical positions are Sales and HR managers, as well as marketing specialists. You can apply for any of these jobs and start your career in FinTech or, if you seek a change in your career, this sphere is worth trying.
Conclusion
The demand for qualified employees in the field of FinTech is only going to increase. Therefore, if you want to enter this industry and have the required skills and experience, pay attention to the FinTech developer jobs that we have covered in the article.