Banking mobile apps require the highest standards of protection by default. However, numerous cases of data leaks and breaches that regularly emerge in the press demonstrate how vulnerable mobile banking is. It is crucial to remember that one hacked key client is enough to influence the security of the whole financial organization. Let's look at mobile banking security concerns and how you can protect your mobile bank accounts from hacking.
Mobile banking security threats
The development of financial mobile apps is hampered by a number of security issues: there are still so many problems this sphere faces. Even those users who frequently utilize Internet banking do not trust apps run on their smartphones worrying about the security of their money. Despite the fact that banks pay much attention to the safety of mobile apps, criminals are continuing to find new ways of data theft.
Hackers are attracted by large client bases of banks, so they create fake applications and steal data from users. Through the vulnerabilities in the application, attackers can access the account where the client's money is stored. Below are the most common reasons why the security of mobile banking may be compromised.
Insecure data storage
As the number of cybercrimes is growing, the number of personal data theft cases is also increasing. Banking mobile apps contain confidential information (passwords, user credentials) which is extremely attractive for criminals. Such data is not sufficiently protected when stored on a mobile device. Without protection activities, criminals just need a set of specialized tools for viewing all the data on a smartphone.
Problems with authentication and authorization
Authorization and authentication don't allow criminals to use the app's functionality or backend server. Modern systems require complex passwords made up of numbers and letters. But mobile app developers often neglect this rule and make it possible to create a short 4-digit password and save the credentials for further use. This is convenient for people who don't want to remember passwords for all the apps, but at the same time, account security is at risk.
Insecure code
All components of a banking mobile app have been protected. The imperfections in the code threaten the sustainability of the app, so cybercriminals use this loophole to crack the system.
What can banks do to protect their apps?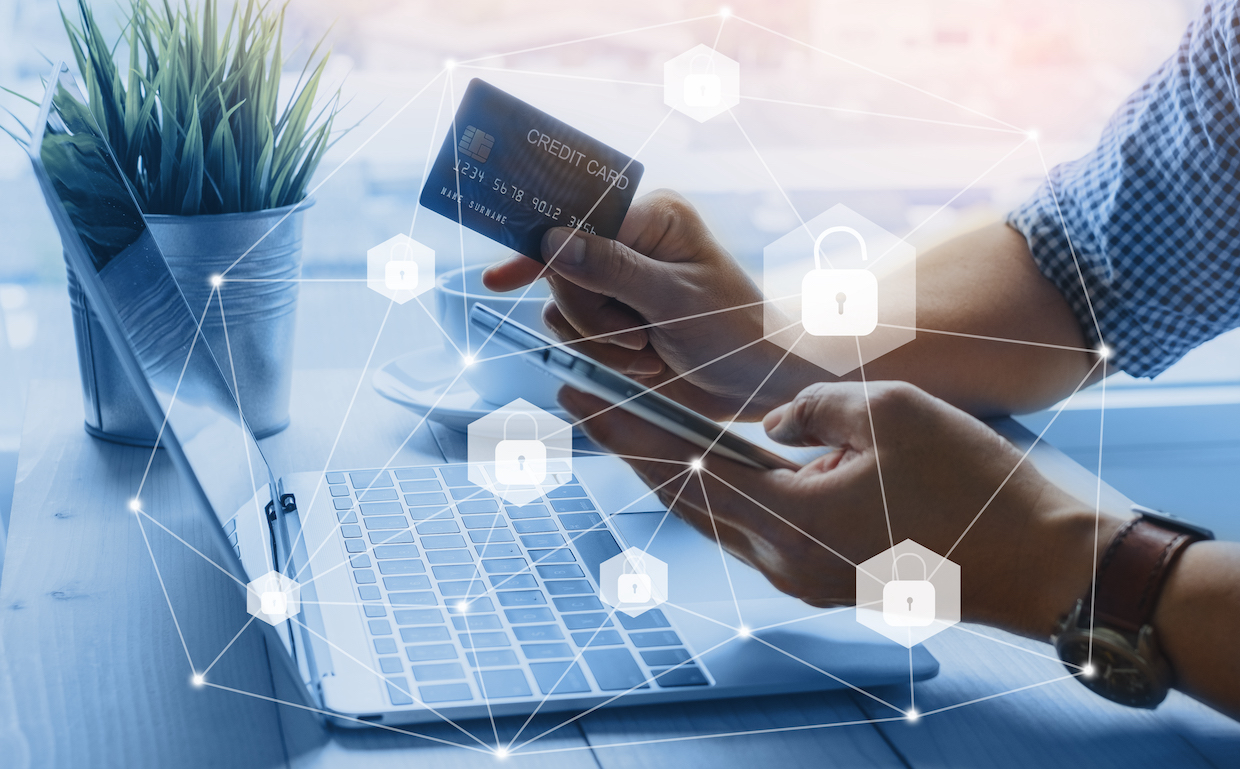 How to protect banking mobile apps
Never store data on the smartphone. It is safer not to store valuable data on the smartphone. In case the device is stolen, the criminal easily get access to the banking account. To protect the credentials, it is better to encrypt the data and store them in the cloud. If it is still required to store information on the smartphone, use the most trustworthy methods of encryption which are difficult or even impossible to decrypt.
Multi-factor authentication. A single password that provides access to the client's banking account can be easily hacked. To improve the defense system of the app it is better to apply a multi-factor authentication: one-time SMS passwords, biometric authentication (fingerprints and face recognition), and more. Multi-factor authentication is far more difficult to bypass.
App source code encryption. Not only personal data but also the app's source code must be encrypted. Test the app multiple times to find all the weak spots and strengthen its defense system.
Beware of the malware. Make sure that the banking application you are using is verified. If the interface looks unfamiliar or strange, double check with the bank customer service. Also, use a strong antivirus for mobiles to prevent attacks.
Conclusion
If you want to hire a highly-qualified mobile application development company which has proven experience of building secure software, look no further! We are ready to enhance your services and provide your clients with secure mobile banking.