Safe autonomous drone missions or manual flights
A pilot can fly the drone by using an automated grid and waypoint patterns or by choosing GPS-aided manual control. In any scenario, safe flying is ensured thanks to the in-app pre-flight checklists, as well as weather and airspace checks. Complex planning of an autonomous mission is now simple and safe with just a few taps. During manual flights the presented comprehensive information on aircraft states and camera controls greatly facilitates the pilot's work.
Real-time video feed from the drone camera is displayed on the mobile device with the indication of timestamp, latitude, longitude, and GPS altitude.
Embedded no-fly zone maps and in-app permissions
A map with multiple types of no-fly zone listings shows where it is strictly prohibited to fly or where specific permissions are needed. It also allows requesting LAANC (Low Altitude Authorization and Notification Capability) authorization from the application.
The integrated DJI Geospatial Environment Online (GEO) system enables the pilot to unlock the DJI hardware in the controlled airspace when the respective authorization is granted.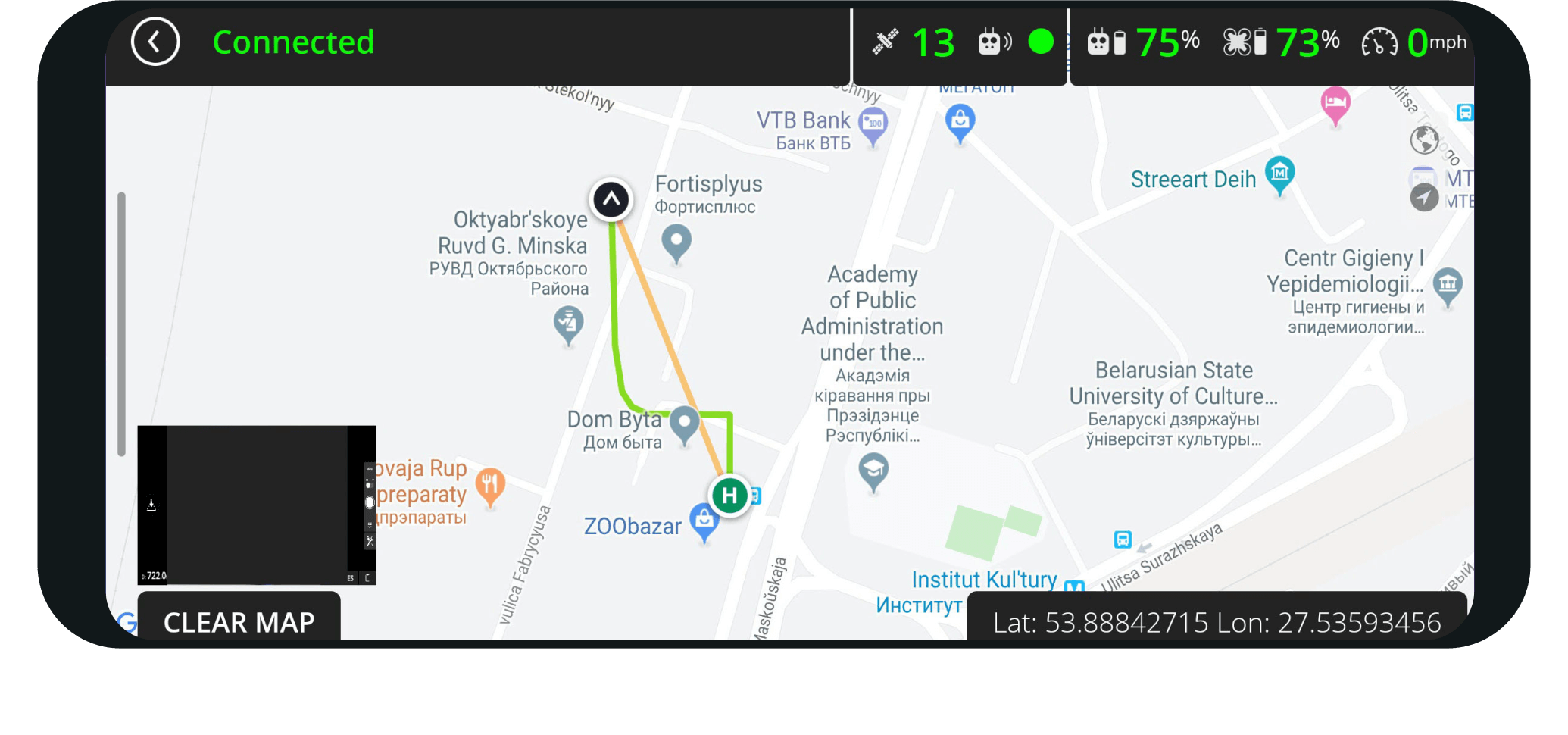 Securely stored aerial intelligence
Flight logs, screen captures, and completed checklists are automatically uploaded to a web-based administration portal for managing operations and viewing flight data when the flight is over.
In online mode, flight logs are automatically synced to the cloud. In case there is a connection problem, the data is stored locally and uploaded to the cloud when the application is launched with a stable connection.
Extensive customization of drone settings and active track modes
Settings and preferences can be easily adjusted, including camera, imagery, remote controller customization and calibration tools for compass, IMU, RC and gimbal calibration.
A pilot can use active track modes, such as:
spotlight (when the aircraft camera automatically follows the subject by rotating the aircraft's yaw)
tripod (for accurate framing at reduced speed)
POI (when the drone repeatedly flies circles of a constant radius around a specified point)
trace (when the aircraft moves in behind the subject keeping a constant distance to it).